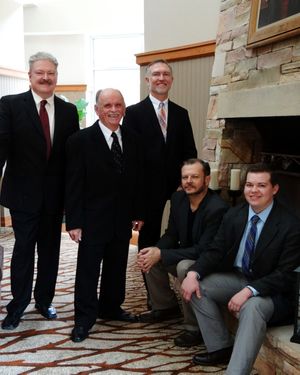 BRISTOL, TN  (February 14, 2017)  --  Sizzling hot off a Grammy Nomination on Sunday in Los Angeles, respected 23-year strong bluegrass powerhouse Blue Highway announced today it is bringing the band's concert booking in house. 
The five-member, award-winning Blue Highway writes their own songs, produces their own albums, and effective February 10, will book their own shows from within the Blue Highway family. 
Before promoters start looking for a call from Blue Highway's force on the five Jason Burleson, the band is quick to relay they are adding Booking Agent to the hats currently worn by Sherri George, their Tour Manager and Publicist since 2014. 
"We like the way Sherri represents Blue Highway," said Wayne Taylor, the newest member of Virginia's Country Music Hall of Fame.  "We now feel like we have the right person in place to bring everything including booking under the Blue Highway umbrella. Sherri has become our right arm, and we are thrilled to have her serve as our Agent.  I can assure you, if you're talking to Sherri, you have the ear of this band." 
"She is our eyes, our ears, and our good right arm. I'd trust Sherri with anything," echoes Shawn Lane, heralded high tenor and lead vocalist, explosive on both fiddle and mandolin, and a highly respected songwriter nominated as 2015 IBMA Songwriter of the Year. 
It would appear the Sports Industry-trained PR pro won Blue Highway's trust from day one, as remarkably she's the first Publicist the band has hired in 23 years. 
When it came time for a vote in the infamous Blue Highway democracy regarding booking, the band's newest member, Dobro phenom Gaven Largent, reportedly exclaimed, "Shoot, yeah!"  Largent's official statement was more formal, but still glowing: "I think Sherri is one of the hardest working, most polite and driven people I've ever been around, and I'm looking forward to what she'll do as our Agent! We're all proud of the way Sherri represents us, and it was a unanimous decision." 
Famous as the Blue Highway democracy is its sometimes slow decision making, but supersonic speed might best describe a literally overnight decision to bring booking in house and expand their tour manager's role in the band.  Why? 
Glance at her resume … Sherri's first position was with the NBA League Office in New York within the marketing arm of the league, in a year that lucrative arm brought in a cool $1.2 billion.  Fast forward from there to University of Kentucky Athletics, where she created what then UK Associate AD Kyle Moats called a model program throughout the country, adding Sherri had wonderful people skills coupled with "a relentless pursuit of perfection and ability to succeed." The Celebrity Guest Coach Program at UK brought in over $70,000 in corporate sponsorships in three months, increased overall event attendance by 55%, and secured international publicity for Lady Kat Basketball.  George also created and taught one of the first Sports PR courses of its kind in the nation while in grad school at Utah State University. 
Her Bluegrass resume sparkles just as bright, as her first role was as publicist for beloved Hall of Fame member Doyle Lawson.  George created the Children's Hospital and Arena Tour for the bluegrass legend, sending Lawson and his band to visit children's hospitals throughout the Southeast, touching hearts of kids and parents with their signature harmony and kindness.  Doyle Lawson & Quicksilver's visibility also skyrocketed on the tour, as they performed the National Anthem from nationally televised NASCAR races to center court on the glistening hardwood of both NBA and NCAA Men's Basketball games. 
Blue Highway's accolades have also sparkled over the past three years, with a sample including: 
Blue Highway's IBMA Album and Song of the Year Nominee 'The Game' was #1 for 7 consecutive months on Bluegrass Unlimited Album Chart.  June-Dec 2014. 
Tim Stafford was honored as 2014 IBMA Songwriter of the Year and 2015 SPBGMA Guitar Player of the Year.  Shawn Lane was nominated as 2015 IBMA Songwriter of the Year, while Gaven Largent was nominated as 2016 SPBGMA Dobro Player of the Year. 
Blue Highway was voted the 'Favorite Bluegrass Artist of All Time' by readers of Bluegrass Today.  April 2016. 
Wayne Taylor was the 2016 Inductee into the Virginia Country Music Hall of Fame. Oct 2016. 
Blue Highway's #1 album 'Original Traditional' was nominated for a 2017 GRAMMY Award for Best Bluegrass Album. 
Thinking of booking Blue Highway?  Add to that list of accolades the dollar signs which accompany Blue Highway, as Sold Out shows accounted for half their concerts in 2015. 
Also add to the list, a new agent inside the band with a goal of ensuring promoters feel like VIP family. 
"One of the reasons Blue Highway is so loved and respected is the way they treat others," said Sherri George.  "When promoters book Blue Highway, we want them to be treated like family and the valued VIP's they truly are.  Blue Highway's goal is a Win-Win scenario every time a contract is signed, and we'll back it up with one of the best bands in Bluegrass and all we can do from a promotion standpoint, with Blue Highway social media, e-blasts, and even press releases if needed." 
"I like how promoters will have a one-stop shop with Sherri booking our shows," said Gaven Largent.  "She has her hands in all of Blue Highway's cookie jars, so she can book a show AND advertise that show heavily in Blue Highway social media.  She can do it all." 
Often the voice of the band, the Grammy-winning, highly respected vocalist, guitarist, producer, teacher, and author Tim Stafford summed up the band's enthusiasm as it embarks on a new phase in Blue Highway history:    "We are excited about our new booking agent!  Sherri George is a wonderful person, top-notch, professional and hard-working.  Entering its 23rd year, the band couldn't be happier, and we look forward to seeing everyone out on the road!" 
To book the award-winning supergroup Blue Highway, please go to www.BlueHighwayBand.com/Mgt-Booking  for contact info for Blue Highway's new in house agent, Sherri George.

###

 
Click Here to book Blue Highway!