~~~
Many of our tour dates are being rescheduled.  If a date does not appear on our tour schedule, then it has been rescheduled. We look forward to seeing each of you on the road!  Our warmest thanks and best wishes to all of you and your families ~ from all of us in the Blue Highway family!
~~~
In 2022, the highly-esteemed bluegrass band Blue Highway celebrates 28 years of touring, with four of the original members still intact.
The band has earned a collective 32 IBMA Awards, 6 SPBGMA Awards, one Dove Award, plus three Grammy nominations.  The band was nominated for IBMA's 2021 and 2020 Vocal Group of the Year and Song of the Year Awards.
Blue Highway's #1 album Original Traditional  was nominated for a 2017 GRAMMY Award for Best Bluegrass Album.
Blue Highway was voted the Favorite Bluegrass Artist of All Time by the readers of Bluegrass Today in April 2016.
Tim Stafford received honors as 2001 and 2015 SPBGMA Guitar Player of the Year and 2014 and 2017 IBMA Songwriter of the Year.  He co-wrote the 2008 IBMA song of the year--performed by the band--"Through the Window of a Train."
Wayne Taylor was inducted into the Virginia Country Music Hall of Fame in October 2016.   Shawn Lane was nominated as 2015 IBMA Songwriter of the Year.

The band's latest album "Somewhere Far Away: Silver Anniversary" has charted two # 1 songs to date, and is available in our Music Store.  "Both Ends of the Train" was nominated for IBMA's 2020 Song of the Year.
Blue Highway charted the Most Radio Airplay of any Bluegrass Artist in 2014, per the  2014 Bluegrass Today Radio Airplay Chart, storming national airplay charts with their heralded album The Game, which topped multiple charts, including reigning at # 1 for 7 consecutive months on the Bluegrass Unlimited Album Chart, and was named the #1 Bluegrass Album of the Year by critic Daniel Mullins in his end of the year Top 20 Albums of 2014 list in Bluegrass Today.
As momentum continues to build for the quarter-century strong powerhouse band, Blue Highway is rolling on with a rich legacy and three powerhouse songwriters, instrumentalists and vocalists in Tim Stafford, Wayne Taylor, and Shawn Lane, whose harmonies soar over the dynamic banjo of Jason Burleson and the tasteful Dobro of Gary Hultman. 
____________________________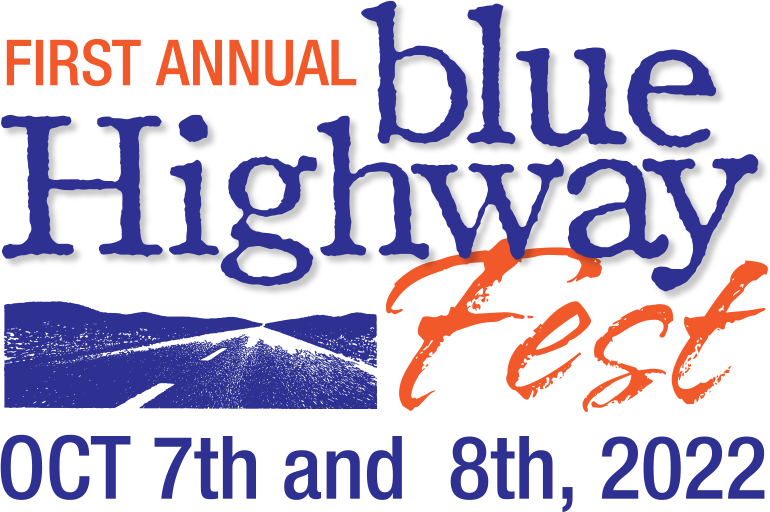 Blue Highway and the town of Big Stone Gap, VA are proud to announce The first annual BLUE HIGHWAY FEST, October 7-8, 2022 at Bullitt Park in Big Stone Gap, VA. CHECK OUT THIS LINEUP: Blue Highway, Sam Bush Band, Tommy Emmanuel, Dan Tyminski Band, the Travelin' McCourys, Scythian, Sierra Hull Band, Darrell Scott, Seldom Scene, Balsam Range, Larry Sparks and the Lonesome Ramblers, Ralph Stanley II and the Clinch Mountain Boys, Brooke and Darin Aldridge, Ed Snodderly, Carson Peters and Iron Mountain, Beth Snapp plus MORE HEADLINE ARTISTS TO BE ADDED!!! https://bluehighwayfest.com/
On-site camping (RVs and tents), On-site food vendors, Craft brews... Ticket information and FAQs coming soon! Children under 12 FREE!
Come join us this Fall in the Blue Ridge Mountains of Virginia on the Trail of the Lonesome Pine, to celebrate the rich heritage of Bluegrass and Roots music, food and culture, with Blue Highway and their friends!
Blue Highway wishes everyone a very happy 2022!  Dec. 31, 2021 marked the 27 year anniversary for the band, and we are ready for normal to return so we can see everyone on the road during our 28th year of touring!  Look for new recordings and some exciting announcements from the band soon--check our schedule for updates.
NEW RELEASE by Shawn Lane ~ Family & Friends is out NOW! Two #1 singles, songs written by Shawn with Barry Bales, Ronnie Bowman, and more! Soaring family harmony by Chad, Grayson, and Garrett Lane! Toe-tapping instrumentals, and a cappella harmony that'll take your breath away! Family and friends, get your copy TODAY of an album created just for YOU! ShawnLaneMusic.com/Family-Friends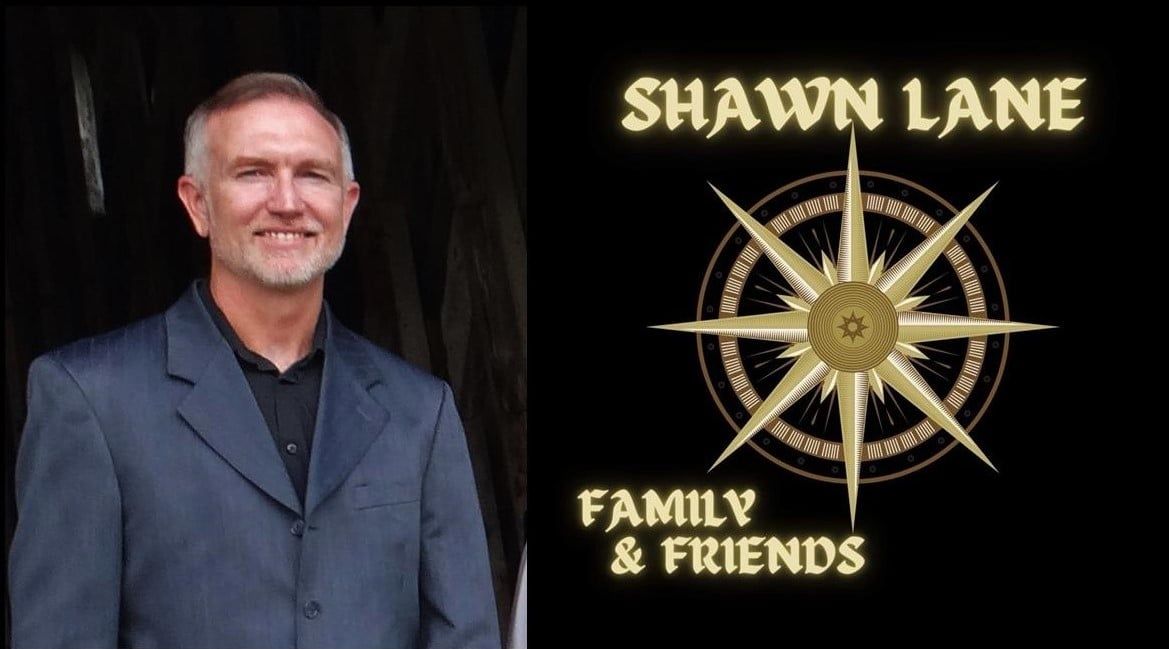 BLUE HIGHWAY NOMINATED YET AGAIN FOR VOCAL GROUP OF THE YEAR AT IBMA!!
Blue Highway was nominated yet again for "Vocal Group of the Year" at the 2021 IBMA Awards.  Tim Stafford was nominated for Album of the Year with his late collaborator, Steve Gulley, for Still Here.  Another tribute to Steve, "In the Resurrection Morning" by the studio group Sacred Reunion featuring Doyle Lawson, Vince Gill, Barry Abernathy, Tim Stafford, Mark Wheeler, Jim VanCleve, Phil Leadbetter, and Jason Moore was nominated for Gospel Recording of the Year as well as Collaborative Recording of the Year, while Tim's notes to Rebel Record's remastered release of Tony Rice's California Autumn record were nominated in the Liner Notes of the Year category.
 
Results of the balloting will be revealed at the IBMA Bluegrass Music Awards on Thursday, September 30, at the Duke Energy Center for the Performing Arts in Raleigh, North Carolina.  Awards are voted on by the professional membership of the International Bluegrass Music Association (IBMA), the professional nonprofit association for the bluegrass music industry.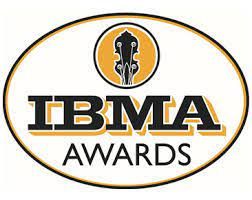 TIM STAFFORD WINS TWO AT 2021 IBMA AWARDS
Blue Highway guitarist and co-founder Tim Stafford won a pair of trophies at the 2021 IBMA Awards, including Liner Notes of the Year for his work on Rebel Records' reissue of Tony Rice's 1975 masterpiece, California Autumn.  Tim also was part of Sacred Reunion's "In the Resurrection Morning" featuring Vince Gill, Doyle Lawson, Barry Abernathy, Mark Wheeler, Jim van Cleve, Phil Leadbetter and Jason Moore, which was a co-winner with Dale Ann Bradley in the Gospel Recording of the Year category.
Whole lot of Blue Highway on the Bluegrass Today top 20 singles chart!!
Whole lot of Blue Highway on the Bluegrass Today top 20 singles chart--Tim Stafford and Steve Gulley at #1 with "Still Here," Shawn Lane at #4 with his new single, "One More," co-written with Ronnie Bowman, and the band's "I Can't Think of One" at #16, co-written by Wayne Taylor and Bowman!
https://bluegrasstoday.com/chart/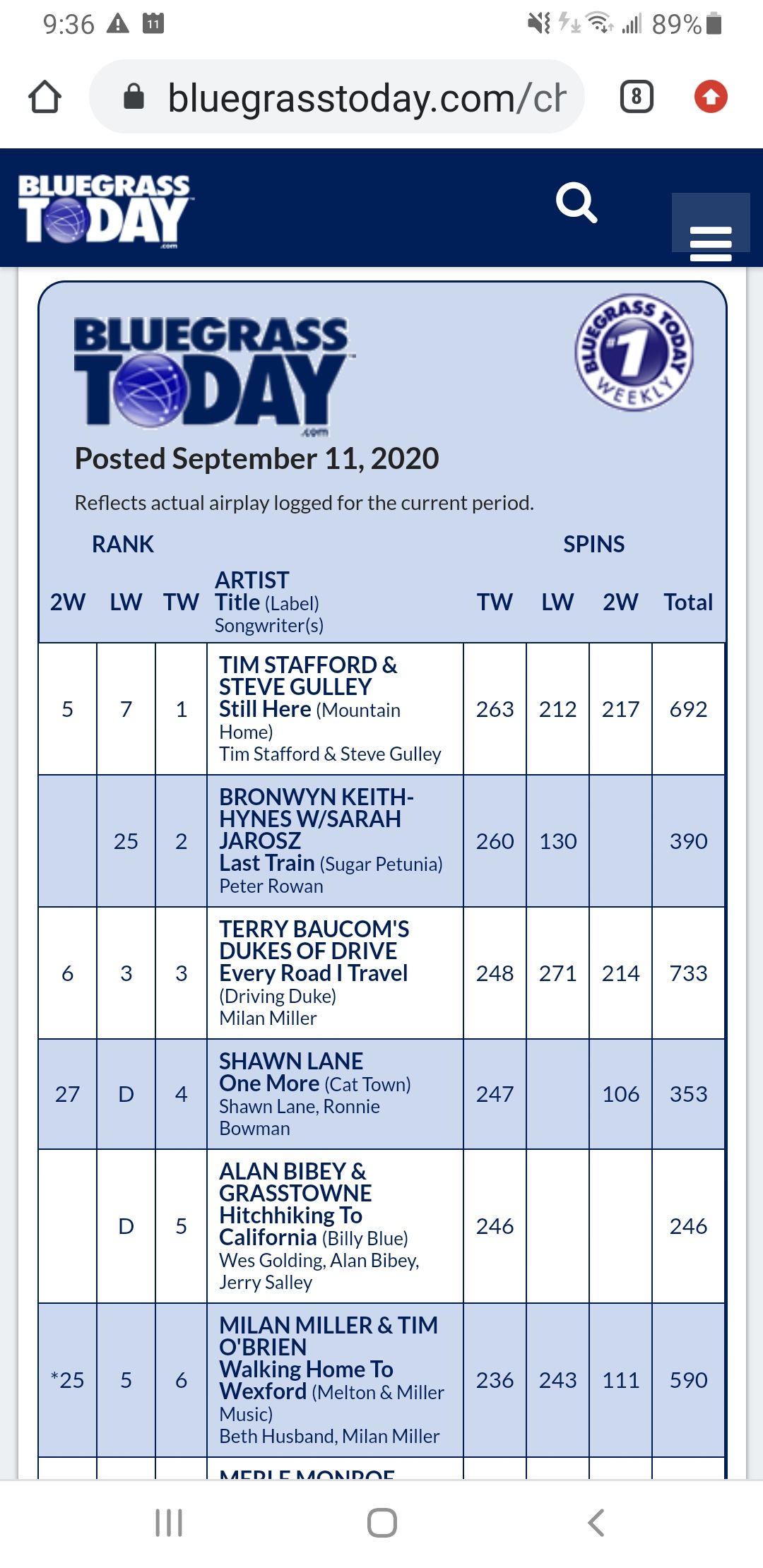 Somewhere Far Away, 25th Anniversary Record available again!! Somewhere Far Away was out of stock for a while but is now available again in our store.  This critically-acclaimed record, which contains "Both Ends of the Train," nominated for IBMA's 2020 Song of the Year has been a big hit with fans and radio alike! 20% OFF!!!!

"BOTH ENDS OF THE TRAIN" NOMINATED FOR IBMA SONG OF THE YEAR!!  The first song on Somewhere Far Away was written by Tim Stafford and Steve Gulley and went to the top of both Bluegrass Unlimited's and Roots Radio Report's singles charts.  The IBMA Awards will be held virtually on Oct. 1!