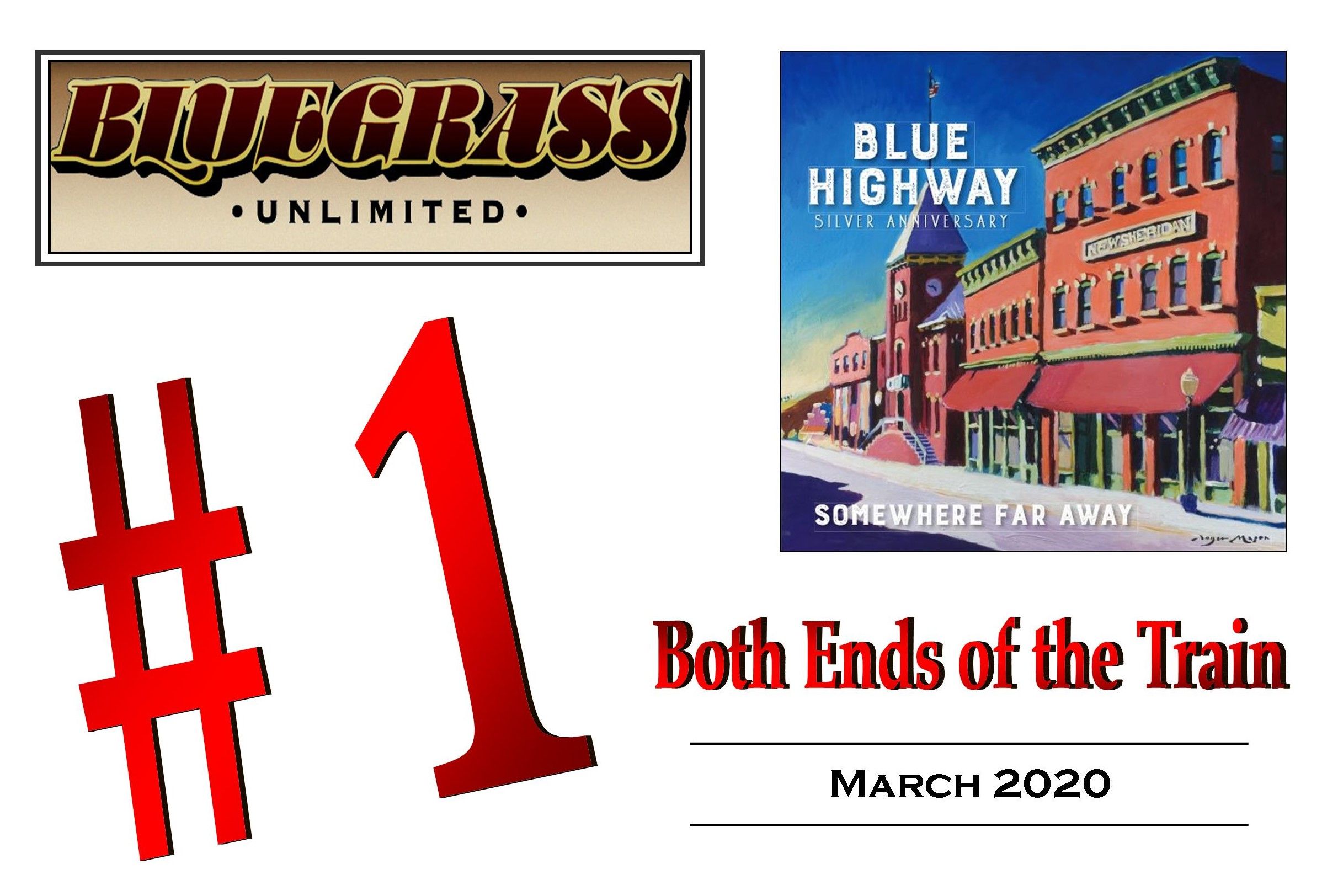 BRISTOL, VA (March 2, 2020) ~ Blue Highway's "Both Ends of the Train" from its highly acclaimed 25th Anniversary album has risen to the top of multiple national charts, including the most recent trip to #1 on the acclaimed Bluegrass Unlimited National Bluegrass Survey Chart for March 2020.  
Penned by the award-winning band's co-founder Tim Stafford and good friend Steve Gulley, "Both Ends of the Train" is also #1 on the Roots Music Report (RMR) Traditional Bluegrass Song Chart for the week of March 1 ~ its sixth consecutive week at #1, and its eighth week overall in the top spot. 
The first #1 song from the album was the Wayne Taylor-penned  "That Sounds More Like Heaven to Me," which topped the Bluegrass Today Gospel Chart on September 13, 2019, and was #20 for the year on the Bluegrass Today Top 30 Bluegrass Gospel Songs of 2019.
The Silver Anniversary album, Somewhere Far Away, hit #1 on the RMR Top 50 Traditional Bluegrass Album Chart for the week of February 1, when Blue Highway reigned with both the # 1 Album and #1 Song on the RMR Charts.  
Currently the album is at # 2 for the second consecutive month on the Bluegrass Unlimited Top 15 Albums Chart. 
Blue Highway's fan base is loyal and widespread, voting the band as the Favorite Bluegrass Artist of All Time in a Bluegrass Today poll in April 2016.  The band charted the Most Radio Airplay of Any Bluegrass Artist in 2014, while selling out half of their shows in 2015. 
Honored and humbled by awards spanning their 25-year storied career, Blue Highway has garnered 28 IBMA Awards, 6 SPBGMA Awards, one Dove Award, and three GRAMMY nominations as a band. 
Wayne Taylor was inducted into the Virginia Country Music Hall of Fame in 2016 alongside legends like Patsy Cline and the Statler Brothers. 
Tim Stafford was honored as IBMA Songwriter of the Year in 2017 and 2014, while earning Guitar Performer of the Year honors from SPBGMA in 2015.  Shawn Lane was nominated as IBMA Songwriter of the Year in 2015.
An enviable dream team of songwriters, vocalists, and instrumentalists, Blue Highway boasts four of its original five members, who are often heralded as musical heroes by loyal fans who grew up listening to original Blue Highway songs, now legendary, like Lonesome Pine, Sycamore Hollow, Some Day, The Game, and Through the Window of a Train. 
Blue Highway and its members have earned widespread respect and an international following, with four co-founders still at the helm: Jason Burleson (banjo, vocals), Shawn Lane (mandolin, fiddle, guitar, vocals), Tim Stafford (guitar, vocals), and Wayne Taylor (bass, vocals) .  Gary Hultman (Dobro, vocals) joined the supergroup in January 2019. 
Blue Highway is represented by Lee Olsen, President of Nashville's CMC Artists.  For more information on booking Blue Highway, please call 615-627-2243, email Lee@CMCArtists.com, or go to www.CMCArtists.com.
###
Somewhere Far Away,  Rounder Records, August 2019.