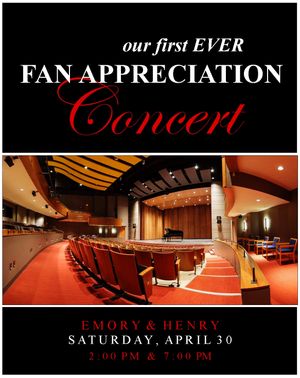 EMORY, VA  (March 10, 2016) -- Premier award-winning bluegrass band Blue Highway will host a first of its kind All Request Fan Appreciation Concert on Saturday, April 30, 2016, at Emory & Henry College in Emory, Virginia. 
The concert will be held at Emory & Henry's new $20 million McGlothlin Center for the Arts, the first outside event to be held in the elaborate new facility.  The Main Theater has six luxury boxes, a four-row balcony and four-row mezzanine, with a total capacity of 461 luxurious seats in the stunning new benchmark facility on Emory & Henry College's pristine campus set amidst the rolling hills of Virginia just east of Bristol. 
Blue Highway will offer fans a choice of two show times on April 30:  Matinee - 2:00 pm and Evening - 7:00 pm ET. 
The elaborately produced event is a Thank You from the members of Blue Highway to their friends and fans who have loyally supported the 22-year strong powerhouse group's music since the band's inception in 1994. 
Fans who buy tickets to the concert will get to vote for their favorite Blue Highway songs spanning the band's 22 years and 10 studio albums.  Blue Highway will perform the Top 25 Songs chosen by their fans. 
Fans will choose their seats from sections named after some of Blue Highway's biggest hits: 
*  Marbletown - Front Row 
*  V-Bottom Boat - Orchestra 
*  Sycamore Hollow - Mezzanine 
*  Keen Mountain - Balcony 
*  In the Gravel Yard - Floor Box Seats 
Tickets within the various sections are general admission, with the 'In the Gravel Yard' Floor Box Seats Section offering a special package of items such as a VIP Laminated Lanyard in addition to luxury box seating. 
With only 461 seats in the spectacular venue, all seat views are potentially fantastic from Box Seats to Balcony. 
Fan-centered options abound, from fans voting for their favorite songs from Blue Highway's ten studio albums as they purchase their tickets to determine the concert's official set list, to opportunities for four fans to introduce their favorite song on stage at the event, to 200 special all-you-can-eat buffet meals being made available for purchase for both the Lunch and Dinner meals on the day of event on April 30 at the beautiful Van Dyke Center overlooking the duck pond on Emory & Henry's campus.  All fans attending the concerts are eligible to win various door prizes to be given away throughout the show, including two one-of-a-kind Grand Prizes:  a Blue Highway festival chair with carry bag, and a specially designed Blue Highway Box Set of the band's albums. 
The concert event will also feature special surprise guests who will perform with Blue Highway.  Workshops with Blue Highway band members will also be offered on Friday, April 29, the day prior to the concerts. 
A Concert Video Announcement is available for viewing at https://youtu.be/eFZMc6aIRZM, and a vibrant Fan Appreciation Concert Page featuring all the exciting details of the event is now Live on the band's website at www.bluehighwayband.com/fan-appreciation-concert. 
Tickets go on sale on Friday, March 11, 2016, with a special segment of the Blue Highway Website Store going Live with the vibrant seating and meal options at approximately 10:00 AM ET  at www.BlueHighwayBand.com/Music-Store. 
. 
Additional details will be announced in the days ahead via the band's website at www.BlueHighwayBand.com and via the band's Facebook page at  www.Facebook.com/BlueHighway. 
### 
Press Release courtesy: 
Sherri George
Publicist and Tour Manager, Blue Highway