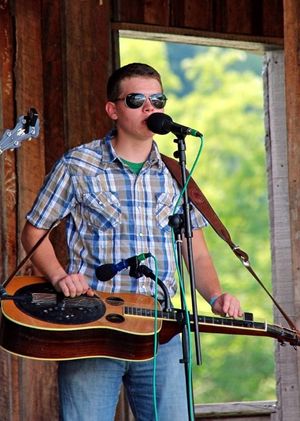 KINGSPORT, TN (December 9, 2015) -- Blue Highway has influenced two decades of musicians since the band premiered in December 1994 -- from "The Voice" contestant and Knoxville teen Emily Ann Roberts who recently cited
Blue Highway as one of her first musical influences
, to the 19-year old phenom the respected powerhouse band has just announced as its new member.
Blue Highway announced today the addition of
Gaven Largent
as dobro player, filling the spot which opened when founding member
Rob Ickes departed
three weeks ago.  
Gaven grew up in a musical family spanning five generations in the heart of Virginia's Shenandoah Valley in Winchester, the hometown of legendary Patsy Cline.
Gaven worked on his great grandparents' farm from the time he was a youngster.   The high value his family placed on music, honesty, and hard work enabled him to become a fine and multi-talented young man, gifted with most anything his hands touch, from playing dobro, guitar, bass, banjo, and mandolin, to fine-tuning the engines of vintage tractors like McCormick Farmalls and Minneapolis Molines.
Largent began playing guitar at age 8, resophonic guitar at age 9, and at age 13 was honored to be invited to perform with Rhonda Vincent and the Rage on the hallowed stage of the Grand Ole Opry.
Since 2012 Largent has performed in several bands including Bud's Collective, Lonesome Highway, and most recently Michael Cleveland and Flamekeeper.
"Gaven is a true find for Blue Highway," said
Wayne Taylor
. "He's a great person and the perfect person to fill this spot in the band!"
"I'm so excited to have Gaven in the band!" said
Jason Burleson
. "He's an amazing dobro player and an all around great musician and good guy.  I can't wait for everyone to hear this cat!"
"Gaven has really impressed me in the short time I've known him, both as a musician and person," said
Tim Stafford
. "He's a natural, and his talent and dedication to his instrument and the music is inspiring. We're very excited to have him in the group!"
"We couldn't have found a better musician for this spot than Gaven," echoed
Shawn Lane
, who summed it all up, relaying, "Gaven rocks!!" 
Gaven grew up listening to Blue Highway, but came to meet the members of the band through his good friend, Jacob Burleson, son of Blue Highway banjo player, Jason Burleson. 
Largent expressed his excitement to be invited join Blue Highway:
"I'd first like to say it's my extreme honor to join a band that has been such a huge influence on the way I think about bluegrass music and the way that I play.  Tim, Shawn, Wayne, and Jason are all huge heroes of mine, and as a young dobro player, Rob Ickes has always been one of my idols!  He is one of the best, and it's going to be tough for me to try to follow such a respected and talented musician. But that said, I am very excited for the challenge of learning all these tunes (even though I've listened to Blue Highway for years!) and thankful for the opportunity to join the ranks and share the stage with this band. Playing music full time has been a goal and dream for me since I was eight years old when I started, and to do it now seems surreal. I hope I can make all the family, friends and fans proud!" 
Fans will have their first opportunity to hear the new Blue Highway line-up in January 2016 in
Jekyll Island, GA
,  at the Jekyll Island Convention Center on Friday, January 1, at 3 p.m. and 9 p.m., with tickets at
www.adamsbluegrass.com/new-year-s-bluegrass-festival.html
; and in
Kingsport, TN
, at the Renaissance Center on Friday, January 15, at 7:30 p.m., with tickets at
www.EngageKingsport.com
. 
Stafford, Lane, and Taylor of Blue Highway will also take the hardwood at Time-Warner Cable Arena to perform the National Anthem at the NBA's Charlotte Hornets - Miami Heat game in Charlotte with tip-off at 7:00 p.m. TONIGHT (Wednesday, December 9). The game will be aired on FOX Sports Southeast and WFNZ 610 AM Radio in Charlotte.
Blue Highway is welcoming Gaven with a celebration on the band's website featuring a 25% off discount on everything in the Blue Highway store with code "WELCOME" through Sunday, December 13, at
www.BlueHighwayBand.com
. 
To read more about Blue Highway and Gaven Largent, please visit
www.BlueHighwayBand.com
and
www.Facebook.com/BlueHighway
. 
###
Photo by Michelle Berardinelli

Press Release Courtesy:

Sherri George
Publicist and Tour Manager, Blue Highway
BlueHighwayPR@hotmail.com
________________________________________