Offical Unveil at IBMA World of Bluegrass in Raleigh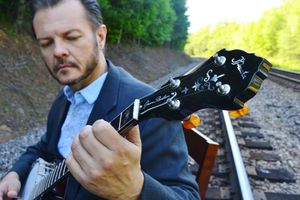 NEWLAND, NC (September 28, 2015) -- Jason Burleson, heralded banjo player of award-winning band Blue Highway, is honored to announce the introduction of the Jason Burleson Signature Banjo by Prucha Bluegrass Instruments. 

The Jason Burleson Signature Banjo is part of the Spirit Line of the Czech Republic-based Pruscha Bluegrass Instruments, joining Alison Brown and Brandon Green as bluegrass artists with banjos in the exquisitely crafted signature Spirit Line.

Prusha is the premier manufacturer of banjos and mandolins in the Czech Republic, and is the only banjo manufacturer internationally known to produce all parts of their banjo hardware in their own production facility.

North Carolina native Jason Burleson is the founding banjo player in the 21-year strong powerhouse band, Blue Highway.  With a genuine gift for vocals, picking, and songwriting, Jason's finesse and skill on the five make him one of the most explosive and dynamic banjo players in the Bluegrass genre.

"I'm excited to have the Jason Burleson Signature Banjo added to the Spirit Line of Prucha Bluegrass Instruments," said Burleson.  "It's an honor to work with Jarda Prucha and have my signature banjo as part of the Prucha family of fine instruments."

The Jason Burleson Signature Banjo is handmade in Prucha's Prague workshop, and features a radiused, 24-fret, standard width extended fingerboard and a "speed neck" with a massive resonator and Prucha's new one-piece flange. The finish on the metal parts is half shiny / half matte.  Sand-blasted nickel-plated parts are engraved with patterns corresponding with the mother of pearl peghead and neck inlays.  The mahogany banjo is fitted with a sand-blasted, engraved Kershner tailpiece.  The maple bridge with ebony plate is also radiused.  Custom upgrate options include premium curly maple and cherry wood, abalone inlays, top tension construction, black nickel, gold plating, and copper flash patina.
The Official Unveil of the Jason Burleson Signature Banjo will be during IBMA World of Bluegrass Week, September 29-October 3, in Raleigh, NC.  The banjo will be on display at the Prucha Booth in the Exhibit Hall of the Raleigh Convention Center.   World of Bluegrass Expo will open to the public Friday, October 2 - Saturday, October 3, 2015.

Jason Burleson will appear at the Prucha Booth on Friday, October 2, from 1:30-3:00 pm.  He'll talk with fans and media, and be available for photos with the new Jason Burleson Signature Banjo.
Jason's signature banjo is available now on Prucha's website at:
http://en.pruchabanjos.cz/banjo.php?banjo=spirit-jason-burleson-signature-model

Prucha have nine handcrafted mandolin models and 13 categories of intricately created banjos.

Blue Highway and its members are nominated for eight IBMA Awards in the upcoming 26th Annual IBMA Awards to be held on Thursday, October 1, at 7:30 pm, at Duke Energy Center for the Performing Arts in Raleigh, NC. 

Blue Highway received the Most Airplay of any Bluegrass Artist for 2014, per the Bluegrass Today 2014 Bluegrass Radio Airplay Chart, with three songs in the Top 15 for the year and 12,115 spins.

For more information on Prucha Bluegrass Instruments, please go to:  en.pruchabanjos.cz

For more information on Blue Highway and Jason Burleson, please go to:  www.BlueHighwayBand.com

###