Blue Highway to Release Original Traditional on September 9, 2016

Bluegrass Superstars Announce Fall Tour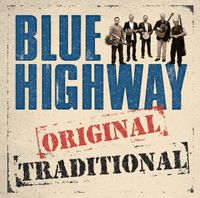 NASHVILLE, TN  (August 10, 2016) – Beloved bluegrass supergroup Blue Highway will release its 11th studio album, Original Traditional, September 9, 2016, on Rounder Records. The 22-year strong powerhouse band was recently voted "Favorite Bluegrass Band Of All Time"' by the readers of Bluegrass Today. 
If any Blue Highway album perfectly exemplifies "the essence of bluegrass music," this is it, combining the spirit, themes, and topics of traditional bluegrass, but through a set of 12 all-new originals from the band and co-writers. Original Traditional may well be the record that everyone has been waiting for from Blue Highway. From callous killings to struggling with sobriety, to the majesty and magic of the mountains, the songs evoke the timeless quality of bluegrass past, but showcase the voices and instrumental prowess of Blue Highway present, capturing a contemporary group at its creative peak. 
Blue Highway is fairly unique in being one of the very few bands that boasts three lead singers – Shawn Lane, Tim Stafford, and Wayne Taylor – who are also accomplished songwriters, each of whom brings his own distinctive voice and personality to each of the songs. 
On Original Traditional, Shawn Lane's contributions include "Don't Weep For Me," "What You Wanted," "A Long Row to Hoe," and "Top of the Ridge." "Don't Weep For Me" could well be an old-timey murder ballad, complete with retribution and hanging. "A Long Row to Hoe" is an ode to the farmer, and "Top of the Ridge," a song of redemption, "no need to worry about the things I miss/I'll see a whole lot better from the top of the ridge," lovely in its simplicity. 
A veteran member of the bands of both Doyle Lawson and Ricky Skaggs, prized for his voice as well as his mandolin and fiddle virtuosity, Lane has been a key component of the Blue Highway sound, and has contributed many outstanding original songs to the band's oeuvre.
 
Tim Stafford, the band's resident music historian, is admired for the depth and breadth of his knowledge, his amazingly fluid guitar style, and his prowess as a singer and songwriter. Stafford penned "She Ain't Worth It," "Wilkes County Clay," the bluesy, laid-back "If Lonesome Don't Kill Me," and the heartbreaking ballad "Last Time I'll Ever Leave This Town." 
Wayne Taylor's resonant voice is one of the wonders of the bluegrass world, the perfect instrument for expressing his own songs. On this album, his directness and emotional power come through loud and clear on "Water From the Stone" and "The Story of My Life." As dependable and solid as ever, his strong bass playing nails the band's pulse in place. 
Jason Burleson, who hails from rural North Carolina, rounds out Blue Highway with his powerful banjo playing, though he also is a noted multi-instrumentalist, not limited to bluegrass. His knowledge of string band jazz and other forms of music runs deep, and his musical sophistication is reflected in his original tunes in the band's repertoire, a wonderful example of which is the new instrumental, "Alexander's Run." 
Blue Highway recently welcomed a new addition to their lineup: abundantly gifted Dobro player Gaven Largent, a 20-year old dobro phenom who has more than risen to the challenge, earning show-stopping applause consistently during Blue Highway performances this year, and garnering a 2016 SPBGMA Dobro Performer of the Year nomination. 
As music scribe Daniel Mullins summed up in the album's liner notes, "With Original Traditional, Blue Highway chose to look ahead by looking back." In so doing, they have never sounded better. 
Blue Highway will perform songs from Original Traditional exclusively for the first time on stage at the following two upcoming shows:  August 13 for the Mountain Stage concert and live performance radio program in Elkins, WV, and August 17 at Music City Roots at The Factory in Franklin, TN.  For tickets and more information on Blue Highway, please go to www.BlueHighwayBand.com 

The album may be Pre-Ordered beginning August 10 at the following link:  www.BlueHighwayBand.com/Music-Store
Upcoming Fall Tour dates include the following:
Blue Highway Fall 2016 Tour
8/13/2016, Mountain Stage at the Augusta Heritage Festival, Elkins, WV 
8/17/2016, Music City Roots, Franklin, TN 
8/20/2016, Gettysburg Bluegrass Festival, Gettysburg, PA 
8/21/2016, Headquarters Live, Salisbury, MD 
9/3/2016, SamJam Bluegrass Festival, Piketon, OH 
9/11/2016, Evangelical Lutheran Church, Frederick, MD 
9/16/2016, Mohican Bluegrass Festival, Glenmont, OH 
9/17/2016, ETSU Culp Auditorium, Johnson City, TN 
9/23/2016, Lawrenceburg Fall Fest, Lawrenceburg, IN 
9/30/2016, Sellersville Theater, Sellersville, PA 
10/1/2016, Bluegrass by the Bay Festival, Berlin, MD 
10/2/2016, AMP by Strathmore, North Bethesda, MD 
10/7/2016, The Strand at 38 Main, Waynesville, NC 
10/8/2016, Jumping Bluegrass '16 at Chesterfield County Fairgrounds, Chesterfield, VA 
10/22/2016, 2nd Annual BBQ & Bluegrass Festival, Greeneville, TN

For complete Tour details, please go to:  www.BlueHighwayBand.com/Tour

###
 
Original Press Release Issued in conjunction with Rounder Records.

Regina Joskow, rjoskow@rounder.com
Ashley Moyer, ashley.moyer@concordmusicgroup.com
Sherri George, BlueHighwayPR@hotmail.com

____________________