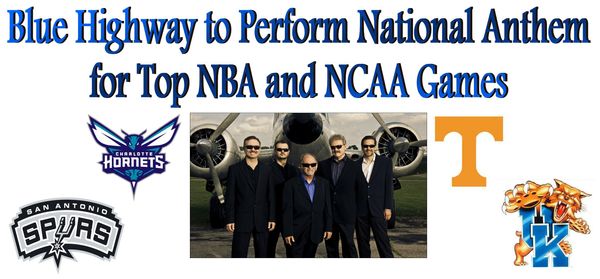 KINGSPORT, TN (January 12, 2015) -- Powerhouse bluegrass band Blue Highway will perform the National Anthem for the biggest pro basketball game of the season in Charlotte as the Charlotte Hornets take on the NBA Champion San Antonio Spurs at Time-Warner Cable Arena on Wednesday, January 14, 2015. Tip off will be at 7:00 PM, with coverage by SportsSouth television network and WFNZ 610 AM Radio.
"Blue Highway is excited and honored to be asked to perform the National Anthem at one of the biggest NBA games of the season in Charlotte on Wednesday night," said Tim Stafford, the band's co-founder and 2014 IBMA Songwriter of the Year. "This ranks right up there with singing the Anthem for the NASCAR Nationwide Series race in Bristol in 2007, one of our career highlights."
Charlotte isn't the band's only high-profile National Anthem performance this season, as Blue Highway will also be taking the hardwood at Thompson-Boling Arena to perform for Tennessee's biggest game of the year on February 17 as the Vols go head to head with the # 1-ranked Kentucky Wildcats. Tip off in Knoxville will be 7:00 PM, with coverage by ESPN and the Vol Radio Network.
"We're always honored to do this song anytime, anywhere," said lead vocalist and bass player Wayne Taylor. "But it's even more of an honor to do it at major events such as these. Looking forward to being in Charlotte and Knoxville representing our country and our music."
Blue Highway's heralded high tenor singer Shawn Lane, who shines on mandolin and fiddle for the band, may be the most excited to perform at center court for two of the top games of the NCAA and NBA seasons. Lane's love of basketball enables him to carve out time amidst a busy Spring tour schedule with both Blue Highway and the Earls of Leicester to be a youth basketball coach in his current hometown of Walhalla, SC.
"I'm thrilled to have this opportunity to sing American-made music for a game of my favorite sport in the USA, basketball," said Lane. "It's going to be a blast!"
Blue Highway also kick off their first shows of 2015 this weekend with a sold out concert at the Renaissance Theater in Kingsport, TN, this Friday, January 16. A concert at the Walhalla Civic Auditorium in South Carolina follows on Saturday, January 17.
Blue Highway have earned 24 collective IBMA Awards, 5 SPBGMA Awards, one Dove Award, and two Grammy nominations. As the band embarks on their 21st year of touring in 2015, Blue Highway is just coming off an impressive 7 consecutive months at No. 1 on the national Bluegrass Unlimited album chart with their newest Rounder Records release, "The Game." The album's title track also held the No. 1 spot on the national Bluegrass Unlimited song chart for 3 consecutive months from August to October 2014.
For more information on Blue Highway, please go to
www.BlueHighwayBand.com
and
www.Facebook.com/BlueHighway
.
###
Press release courtesy:
Sherri George
Publicist and Tour Manager, Blue Highway