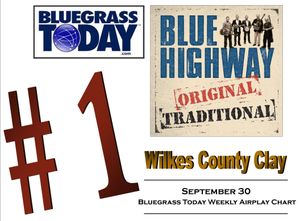 BRISTOL, VA (September 30, 2016)  -- Multi-award winning bluegrass band Blue Highway soared to # 1 today with the first song from their newly released album, Original Traditional. 
"Wilkes County Clay" written by Tim Stafford and Bobby Starnes went to #1 on the Bluegrass Today Weekly Airplay Chart released today, September 30, 2016.   Stafford is a Grammy Award winner who co-founded Blue Highway, while Bobby Starnes owns Hat Creek Recording Company in Johnson City. 
Blue Highway's new album Original Traditional released on September 9 on Rounder Records. 
The 22-year strong powerhouse Blue Highway has taken each of their 10 prior studio albums to #1 on multiple charts, but this is the first song to go #1 from their newest album released just 3 weeks ago today.   The song debuted last week and skyrocketed to #1 today. 
Also charting today at #17 was Blue Highway's "The Story of My Life" written by Wayne Taylor. 
Blue Highway's last album "The Game" reigned at # 1 for seven consecutive months on the Bluegrass Unlimited Album Chart, and was nominated for 2014 IBMA Album of the Year. 
Blue Highway will appear on News 5 at Noon on WCYB-TV in Bristol, VA, on Thursday, October 6, at 12 Noon ET to perform songs from their new album.  The show may be watched via Live Stream at www.wcyb.com/news/live-stream. 

### 
 
Press Release Courtesy:
Sherri George
Publicist and Tour Manager, Blue Highway

____________________________________