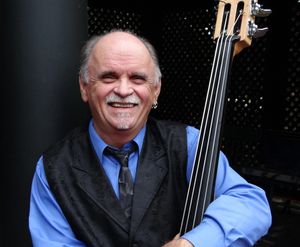 TAZEWELL, VA (June 29, 2017) -- On the heels of being inducted into the Virginia Country Music Hall of Fame last Fall, the gifted vocalist, songwriter, and bass player Wayne Taylor of the multi-award winning, highly respected band Blue Highway is being honored with a Lifetime Achievement Award at the 15th Annual Tazewell County Fiddlers Convention on Saturday, July 15, at 6:30 pm, at the Historic Crab Orchard Museum & Pioneer Park.
Museum Executive Director Charlotte Whitted announced on Thursday the two honorees for 2017 as Blue Highway's Wayne Taylor and posthumous awardee, banjo standout John Wesley Wright, Jr. 
"The Lifetime Achievement Award recognizes those who have made a significant impact toward preserving Traditional Mountain Music in Tazewell and Southwest Virginia," said Whitted.  "We are proud to welcome bluegrass legend Wayne Taylor to our list of honorees.  Wayne's humble approach to music and giving spirit pushed him to the top of the Nominees List this year.  He will make a worthy addition."
Wayne Taylor's life reads like a pure American dream. 
A child of humble parents, Wayne overcame four early years spent on crutches and in a wheelchair to become a coal truck driver in the mountains of southwest Virginia for 18 years before a golden door opened for him to become a founding member of what would become one of the most awarded and influential contemporary bluegrass bands in modern history, Blue Highway. 
The 23-year strong Blue Highway has earned 26 IBMA Awards, 6 SPBGMA Awards, one Dove Award, and three prestigious Grammy Nominations as a band, including a 2017 Grammy Nomination for Best Bluegrass Album. 
Wayne is often credited with giving Blue Highway its "inimitable" sound.  Taylor is a highly respected vocalist, songwriter, and bass player, earning honors as SPBGMA Bass Player of the Year in 2001.   Wayne was recently honored as the 2016 Inductee into the Virginia Country Music Hall of Fame, alongside legends such as Patsy Cline, The Statler Brothers, and Roy Clark.  
Taylor's songs have filled Blue Highway's albums from the band's first release in 1995, with songs from the rollicking Riding the Danville Pike to the toe-tapping Lonesome Pine and Talk is Cheap, to the deep perennial fan-favorites Keen Mountain Prison,  No Home to Go Home To, That Could Be You, Homeless Man, Only Seventeen, and Seven Sundays In A Row, which was co-written by Kim Williams and Larry Shell and nominated as 2004 IBMA Song of the Year.  
Eighteen years of hauling coal in southwest Virginia gives Wayne's songwriting a depth and authenticity hard to match. 
The gifted songwriting and pure vocals of Wayne Taylor, Tim Stafford, and Shawn Lane have been like rocket fuel for Blue Highway, helping skyrocket each of their 11 studio albums to #1, with their most recent album 'Original Traditional' earning a 2017 Grammy Nomination for Best Bluegrass Album.   Their last album 'The Game' reigned at #1 for 7 consecutive months on the Bluegrass Unlimited Album Chart, helping Blue Highway chart the Most Radio Airplay of Any Bluegrass Artist in 2014.   Blue Highway was also voted the Favorite Bluegrass Artist of All Time in April 2016 by the readers of Bluegrass Today. 
The 15th Annual Tazewell County Old Time & Bluegrass Fiddlers Convention will be held July 14-16 at the Historical Crab Orchard Museum & Pioneer Park at 3663 Crab Orchard Road in Tazewell, VA.   It's a fun family-focused event with concerts, musical workshops, cake and pie walks, an old fashioned Dance on the Green, and individual music competitions with prizes in the categories of guitar, mandolin, banjo, fiddle, Dobro, harmonica, dulcimer, bass, autoharp, fiddle & banjo duet, folk song, and youth.  On Sunday morning, a gospel sing at the Red Barn will conclude the weekend's activities. 
Weekend Passes are $12, with Single Day Passes $7 for Friday or Saturday.   All events are FREE for children 12 and under with an accompanying paying adult.  Camping is also available on site.  For more information, please call  276-988-6755 or email:  info@craborchardmuseum.com 
For full event details, please go to www.CrabOrchardMuseum.com. 
For more information on Wayne Taylor and Blue Highway, please go to www.BlueHighwayBand.com.
###
Press Release courtesy:
Sherri George
Agent, Tour Manager, and Publicist, Blue Highway