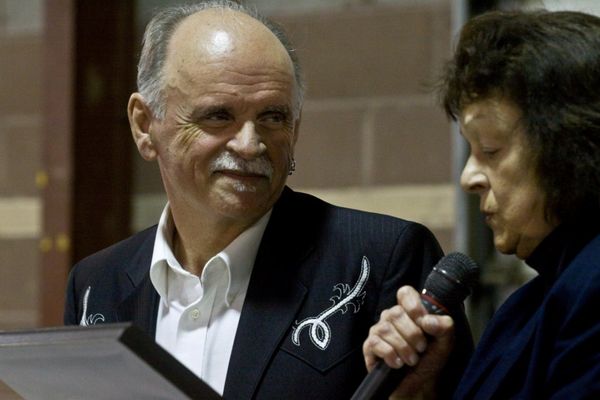 CHESTERFIELD, VA -- Blue Highway's beloved bass player, songwriter, and vocalist Wayne Taylor was inducted into the Virginia Country Music Hall of Fame in a ceremony held on Saturday, October 8, in Chesterfield, VA. 
One artist or band who has significantly contributed to country or bluegrass music is chosen annually by a board sanctioned by the Governor of Virginia, with past inductees including legends like Patsy Cline, the Statler Brothers, Dr. Ralph Stanley, Jimmy Dean, Mother Maybelle Carter, and Roy Clark. 
On Saturday, Wayne Taylor's name was added to the list of beloved legends honored in the Hall of Fame. 
The Executive Board of the Virginia Folk Music Association (VFMA) selected Wayne Taylor as the 2016 Virginia Country Music Hall of Fame Inductee, with Governor Terry McAuliffe signing a congratulatory letter framed for Taylor, along with a formal induction proclamation.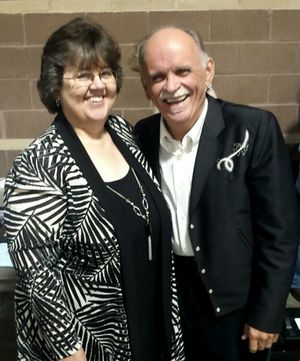 In a warm acceptance speech, Taylor relayed his thanks to God, his cherished wife of  nearly 39 years, Sharon; their beloved neighbor who has become like family, Francis Lee; and sincere appreciation for his band brothers past and present in the internationally respected supergroup Blue Highway for the 22 year strong ensemble which helped bring him into the Virginia Country Music Hall of Fame on Saturday.   Taylor co-founded Blue Highway along with Tim Stafford, Shawn Lane, Jason Burleson, and Rob Ickes.  Young 19-year old Dobro phenom Gaven Largent joined the Blue Highway family in January 2016 following the departure of Ickes, and has become not only a respected member of the band, but also like a cherished younger brother to Taylor. 
"I feel like the luckiest guy on the planet that I've been able to do this and travel all over the world," Taylor said. "I can't make it clear enough how much I appreciate this honor, and the fact that I've been able do what I love for the last 22 years." 
Taylor overcame early years in a wheelchair to drive a coal truck for 18 long years in the mountains of southwest Virginia, playing in small bands on the side, until a golden door opened to become a founding member of one the most influential and respected bluegrass bands in modern history, Blue Highway. 
The gifted songwriting and pure vocals of Taylor, Stafford, and Lane have been like rocket fuel for Blue Highway, helping skyrocket each of their 10 studio albums to #1, with their last album 'The Game' reigning at #1 for 7 consecutive months on the Bluegrass Unlimited Album Chart. With powerful songs from 'The Game,' Blue Highway charted the Most Radio Airplay of Any Bluegrass Artist in 2014. 
Blue Highway was also recently voted the Favorite Bluegrass Artist of All Time in April 2016 in a reader poll by Bluegrass Today. 
Blue Highway's newest album 'Original Traditional'  released on September 9, with their first #1 song from the album "Wilkes County Clay" soaring to #1 just three short weeks after the album's release (Bluegrass Today Weekly Airplay Chart - week of September 24).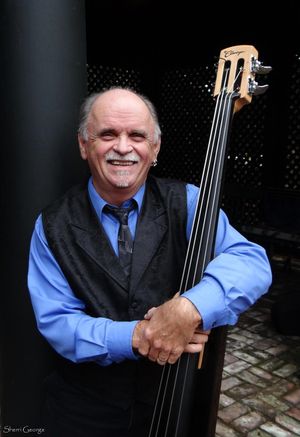 Nashville entertainment writer Craig Havighurst has credited Wayne Taylor's voice with giving Blue Highway an "inimitable sound," and that sound has earned Blue Highway a rich share of fans, friends, and awards since the band's first show on New Year's Eve 1994 in Kingsport, TN.  Blue Highway has earned a collective 25 IBMA Awards, 6 SPBGMA Awards, one Dove Award, plus two Grammy nominations as a band.   Wayne was individually honored as SPBGMA Bass Performer of the Year in 2001. 
Marian Levy of the band's label Rounder Records also recently praised Wayne's talent and contribution to Blue Highway, writing:  "Taylor's resonant lead voice is one of the wonders of the bluegrass world." 
Wayne has remained humble through all the awards and praise, always quick to convey his appreciation and praise for those around him, and above all give his thanks to God. 
"All the talent that anybody has is a gift from God," Taylor said. "I tell people, if I have any talent, it has to be from Him." 
Highly respected freelance writer Tom Netherland eloquently wrote of Wayne earlier this year:  "For 18 years he drove the snaking roads of Southwest Virginia by day and played bluegrass on the side by night.  Blue Highway gave him a way out of the truck. Their fans made them stars." 
Blue Highway's stars were all shining brightly on Saturday, with proof the American dream is still alive and perhaps shining brightest in Virginia's newest Hall of Fame member, Wayne Taylor. 
### 

_________________ 
 
For Wayne Taylor Bio, please go to: 
http://www.bluehighwayband.com/news/blog/blue-highway-s-wayne-tyalor-to-be-inducted-into-virginia-country-music-hall-of-fame
_________________ 
 
Press Release Courtesy: 
Sherri George 
Publicist and Tour Manager, Blue Highway 
 
_____________________ 
 
Photo Credits: 
(1) Wayne accepting his framed Hall of Fame Induction Certificate from VFMA Board Member Yvon Jackson.  By Tom Netherland. 
(2) Wayne Taylor and wife Sharon.  By Courtney Austin. 
(3)  Wayne Taylor, 2016.  By Sherri George. 
 
____________________