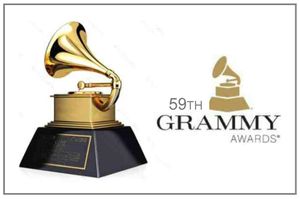 LOS ANGELES, CA (December 6, 2016) --  Blue Highway is honored to be nominated for a 2017 GRAMMY Award for Best Bluegrass Album for their newly released album "Original Traditional" on Rounder Records. 
Nominees were announced today, with other nominees in the Best Bluegrass Album category including Doyle Lawson, Laurie Lewis, Claire Lynch, and Mark O'Connor. 
The 59th Annual Grammy Awards will be held on Sunday, February 12, at the Staples Center in Los Angeles, and will be aired nationally on CBS.
Released on September 9, "Original Traditional" has already charted two #1 songs, with the album soaring to #1 on national charts in early November. 
Blue Highway have earned 26 IBMA Awards, 6 SPBGMA Awards, one Dove Award, and three Grammy nominations as a band to date.  Wayne Taylor was recently honored as the 2016 Inductee into the Virginia Country Music Hall of Fame. 
The 22-year strong powerhouse Blue Highway is based in East Tennessee, debuting in Kingsport on New Year's Eve 1994.
Blue Highway's next concert appearance will be in Abingdon, VA, this Sunday, December 11, at Sinking Springs Presbyterian Church at 3:00 pm, as part of the VHCC Spencer-Miller Concert Series. 
Blue Highway members include Jason Burleson (banjo, vocals), Shawn Lane (mandolin, fiddle, vocals), Gaven Largent (dobro, vocals), Tim Stafford (guitar, vocals), and Wayne Taylor (bass, vocals). 
For more information on Blue Highway, please go to www.BlueHighwayBand.com. 
Complete listing of 2017 Grammy Nominees is here:  www.Grammy.com/Nominees. 
###


Press Release Courtesy:
Sherri George
Publicist and Tour Manager, Blue Highway

_____________________